19th Annual Novajeepers Show & Shine - October 7th 2023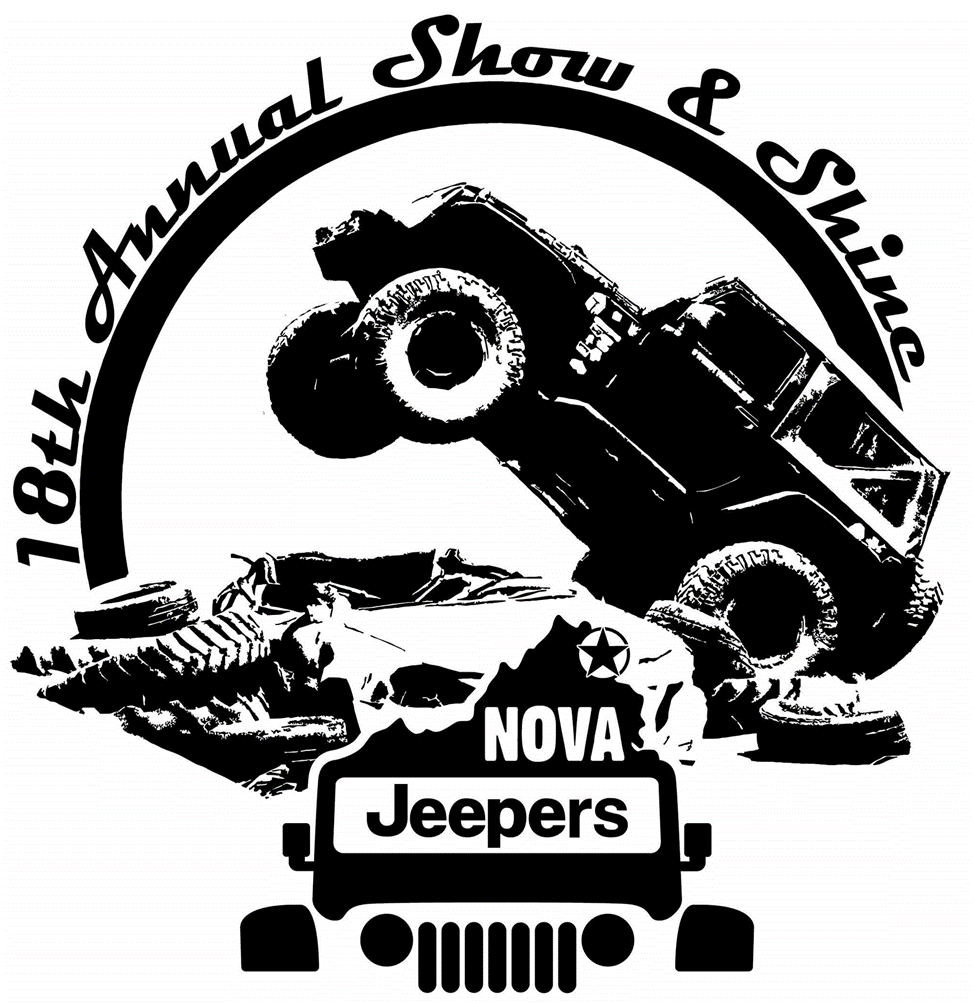 The NovaJeepers Show & Shine is brought to you by the Northern Virginia Jeepers Association. Come and Enjoy a full day of activities; register your jeep, RTI Ramp, Show and Shine Rodeo and more! 
The event is free to spectators and family friendly.  In order to participate in driving activities your jeep must be registered in the show.
Show Location: Loudoun County Fairgrounds

We are at a new venue this year! Loudoun County Fairgrounds offers ample room for 200+ jeeps to enter the show and room for many activities. The address for the Fairgrounds is 17558 Dry Mill Rd, Leesburg, VA 20175.
This event is open to everyone: Members, Friends,

Blue

Jeeps,

Red

Jeeps, All Jeeps! Register Now and enjoy the Show.
Pre-registering for the show is a great way to save time the day of the event. Your pre-registration packet will be ready and waiting for you. No long lines, no waiting to register, just pick up your packet, and begin enjoying the day's festivities.
Register at the Show ($30)
Last Minute Person? No Problem, register the day of the show, simply arrive early that day and proceed to our tech inspection station and then to our registration area, where our staff will get you signed up and entered in the event.
Event Tshirts ($25)
A limited quantity of event shirts will be available at the event. Make sure to stop by the club store early and pick one up. Or add one during Preregistration and it will be in your packet waiting for your arrival.

Tshirt Orders via Preregistration are due April 30th.
What's Happening at the Show
10:00 AM – 11:30 AM Show opens for registration and pickup of packets for pre-registered Jeeps
10:00 AM – 2:00 PM GENERAL RAFFLE TICKETS ARE ON SALE!!!
11:00 AM – 1:00 PM RTI Ramp
11:30 AM – 2:00 PM Judging of registered Jeeps.
2:00 PM Presentation of Awards, 50/50 and Grand Prize Drawings
Jeep Judging: View all the classes and pick your favorites to win awards; all registered participants will receive one ballot to use to choose jeeps for awards (Dirtiest, Cleanest, Best Plate, Most Used and Abused, and People's Choice). People's Choice is the Show's highest honor, vote for that one jeep that stands out above the rest to be recognized during the award ceremony.
RTI Ramp: Registered participants can put their Jeep to the test on the RTI Ramp. RTI or Ramp Travel Index gets a true measurement of how well your suspension articulates. Put on tire on the ramp and drive until you pick up a wheel or can't go further.
Raffles: General Raffle: $1 each or $20 for a wing span. Raffle drawings will be held periodically throughout the day.  Grand Prize Raffle: $2 each for a chance at some of the most valuable prizes! These prizes will have a minimum value of $250. Charity 50/50: This year proceeds of this raffle will be donated to the 4 Wheel To Heal.
And More: Kids Activities, Vendor Booths, New to Jeeping Trail Ride Sign Up, and Food Truck!
Missed PreRegistration? No Problem, please Register at the Event!